ASU Football Game Watching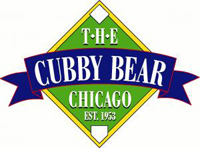 NOTE: Due to on construction at Cubby Bear, ASU will meet at various locations throughout the season. Please use the game blocks below for locations.
Join us at the official ASU Chicago game watching party at Cubby Bear in Wrigleyville with all of your Chicago Sun Devil Alumni! The Cubby Bear allows the ASU Chicago Alumni Chapter a great place to meet, eat, and drink while watching the game in our very own floor; called Devil's Den. Sun Devils from all over the Chicagoland area meet up to share one common interest, ASU Football. Don't forget to wear your Maroon and Gold (and Black) to the game watching parties. Enter thru the side door on Addison Street.
The Cubby Bear has a great special for ASU Sun Devils joining us.
Drink Package Options:
$20/$25 Wristband (Member/Non-Member)
All you care to drink: Beer, well mixed drinks, wine, and soda.
$30/$35 Wristband (Member/Non-Member)
All you care to drink: Beer, YOU CALL IT mixed drinks, wine, and soda.
Beers included: Angry Orchard, Bells Oberon, Bells Official, Bells Two Hearted, Bud Light, Budweiser, Coors Light, Corona, Corona Light, Founders Solid Gold, Goose Island 312, Goose Island Green Line, Goose Island IPA, Guinness, Heineken, Michelob Ultra, Miller Light, Modelo, Natural Light Naturdays, Old Style, PBR, Pulaski Pils, Truly Hard Seltzer, Virtue Rose. Inclusions are subject to change.
Wristbands packages begin 30 minutes prior to the game and are good through the end of the game. Wristbands can be purchased from the table near the entrance of Devil's Den.
000 days 00 hours 00 minutes 00 seconds
until ASU Chicago Game Watching begins!
2023 Game Watching Schedule
Thursday, August 31, 2023



Game Time: TBD
Wristband Begin: TBD
Saturday, September 9, 2023



Game Time: TBD
Wristband Begin: TBD
Saturday,  September 16, 2023



Game Time: TBD
Wristband Begin: TBD
Saturday, September 23, 2023



Game Time: TBD
Wristband Begin: TBD
Saturday, September 30, 2023



Game Time: TBD
Wristband Begin: TBD
Saturday,  October 7, 2023



Game Time: TBD
Wristband Begin: TBD
Saturday, October 21, 2023



Game Time: TBD
Wristband Begin: TBD
Saturday, October 28, 2023



Game Time: TBD
Wristband Begin: TBD
Saturday,  November 4, 2023



Game Time: TBD
Wristband Begin: TBD
Saturday, November 11, 2023



Game Time: TBD
Wristband Begin: TBD
Saturday, November 18, 2023



Game Time: TBD
Wristband Begin: TBD
Saturday,  November 25, 2023



Game Time: TBD
Wristband Begin: TBD